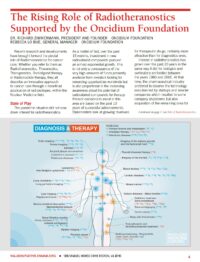 By Richard Zimmermann and Rebecca Lo bue, SNMMI Value Initiative, July 2021.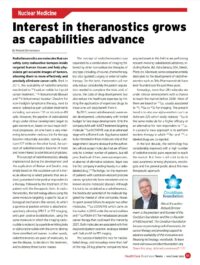 By Richard Zimmermann, HealthCare Business, June 2020.
What Are
Radiotheranostics

for Cancer Care?
Doctor, will
Radiotheranostics

make me radioactive?
Tom, treated with PRRT for NETs
Fernando Acosta's Testimonial with Lutetium-177 PSMA Radioligand Therapy
Participating in a Clinical Trial
European Organisation for Research and Treatment of Cancer (EORTC):
Academic, independent, non-profit organisation under Belgian law, with no direct government subsidy. Clinical studies evaluating new drugs for potential registration, or testing therapeutic agents, are conducted in partnership with commercial organisations. This funding is subject to EORTC's strict principles of independence.
The Clinical Research Initiative for Global Health (CRIGH):
CRIGH aims to optimize clinical research programs, develop global standards on clinical research, promote the take-up of innovative methodology and technologies, and encourage international cooperation to rapidly and efficiently respond to global health challenges
The European Clinical Research Infrastructure Network (ECRIN):
Non-profit intergovernmental organisation that supports the conduct of multinational clinical trials in Europe. As of 2013, ECRIN has the legal status of a European Research Infrastructure Consortium (ERIC).  Works with European Correspondents across Europe, national networks of clinical trial units (CTUs), as well as European and international stakeholders involved in clinical research.
Nuclear medicine
The NME (

Nuclear medicine

Europe) has implemented a website for the general public called "What is

Nuclear medicine

?", that features movies, cartoons and special small booklets to be downloaded that explain basic concepts.
You will find useful information as well on the IAEA website about Radiopharmaceuticals production and some interesting Publications regarding advances search.
Books
In order to explain this technology in an accessible way, a reference booklet containing information on Nuclear medicine was written by the author of this project. It was initially intended for workers in the Radiopharmaceutical industry but was then used for patients and finally distributed to potential investors. This book is presently available in French, English, and Spanish.
Richard Zimmermann, "Nuclear Medicine, Radioactivity for Diagnosis and Therapy », 2nd edition in English language, EDP Sciences, France, 2017, 217 pages.