Even though Prostate Cancer (PCa) remains the most frequently diagnosed cancer type in men (estimated to be the fifth leading cause of cancer related deaths in men worldwide), death rates for prostate cancer have been decreasing in many countries. In surgical treatment, incomplete resection of PCa and understaging of possible undetected metastases may lead to disease recurrence and consequently poor patient outcome. Curative options are indicated. One of these curative options is surgical removal of all cancerous tissue. Depending on the extent of the disease, surgery may be combined with Adjuvant Radiotherapy, hormone therapy and chemotherapy. To increase the chance of accurate staging and subsequently complete removal of all cancerous tissue, prostate specific membrane antigen (PSMA) targeting agents may provide the surgeon an aid for the intraoperative detection and removal of PCa lesions.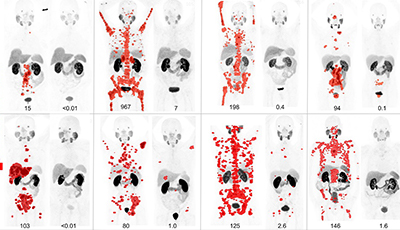 Image used with permission of Prof. Michael Hofman, Peter MacCallum Cancer Centre, Melbourne, Australia. Series of patients who received LuPSMA therapy after other treatments stopped working. In each patient, the extent of tumor spread before and after treatment is visualized with clarity using PSMA PET. These patients experienced improved quality of life, including reduction of pain correlated with marked reduction of prostate specific antigen (PSA), a blood tumor marker.
Compassionate Use Program (CUP)
CUP enables patients with life-threatening diseases, such as advanced cancer, to resort to experimental treatments when standard anti-cancer solutions and access to clinical trials are not an option. Access to CUP programs depends on local regulations and can vary from one treatment to another.
Ask your referring physicians for more information regarding CUP.