Kidney cancer is about twice as common in men than women and the risk of developing kidney cancer is increased by smoking, obesity, high blood pressure and diabetes. There are different types of kidney cancer notably the most common one, the clear cell renal cell carcinoma (ccRCC). 70-85% of kidney cancers are ccRCC and it has a high risk of metastasis (spreading to other sites in the body). Promising results regarding the role of radiolabeled PET tracers as an imaging modality for the evaluation of widespread disease and response to target and local therapies in patients with renal cancer have been observed.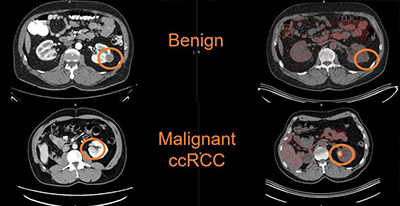 ©TELIX – None of Telix's product pipeline has received marketing authorization in any jurisdiction. Any use of Telix products is on an investigational basis or for use in approved clinical trials. TLX250 (Lu-177-DOTA-girentuximab) is a therapeutic radiopharmaceutical that uses anti-CAIX girentuximab (just like the imaging application) to deliver a therapeutic dose of targeted radiation to clear cell renal cell carcinoma (ccRCC)
No marketed radiotherapeutics available for this indication yet.
Compassionate Use Program (CUP)
CUP enables patients with life-threatening diseases, such as advanced cancer, to resort to experimental treatments when standard anti-cancer solutions and access to clinical trials are not an option. Access to CUP programs depends on local regulations and can vary from one treatment to another.
Ask your referring physicians for more information regarding CUP.